For those of you that were around yesterday when I asked about where my lisence would be hiding.. I found it. :) It was hiding on the floor under a whole bunch of stuff I put against the wall. I guess it fell out of my jeans and slid close to the stuff. Then when I was freaking out trying to find it, I just pushed it under further.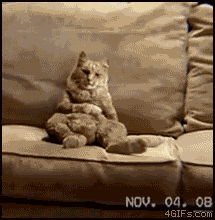 Okay guestion!
Im sitting here watching "Thank you for smoking." I watched this movie when it first came out and I thought it sucked a lot. Now Im sitting here ACTUALLY watching it and I find I actually like it. Weird.
Any movies do this to you lately? Did you actually watch them the first time or not?