Um.. okay, I'm going to admit my stupidity here and just say "HELP MEEeee...!"

Here's a little diagram of my TV,VCR,DVD-R and Satellite box.

Now I want to hook my DVD-R up to my VCR so that I can record tapes onto discs.
But I'm all confused because there's alot of dusty wires AND my DVD-R says that it needs to be directly connected to my TV.


I only have one spare black (coaxial cable?) along with the ones already hooked up, plus the Red, White and Yellow wire things already in use (red on the diagram).

So how do I connect my boxes so everything works right?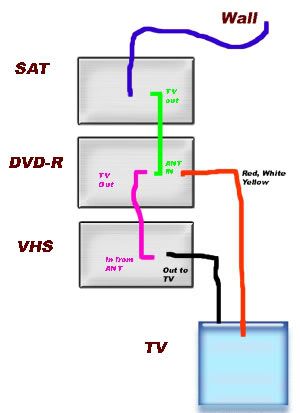 P.S. If they should already work please tell me... eek