1. Is it necessary to go to the doctor for a broken toe (or a "might be" broken toe)? I know they can't really do anything for it. I think I broke mine this morning (stubbed it in a door frame). It hurts and has nasty bruising, but it's not like when I broke another toe a couple years ago (then again, that was a clean break through the whole bone). It hurts if I walk on it a lot, but if I've been sitting for a while, I can walk okay for a little bit. But geez, the bruising is sickening.

2. This is for teachers (or anyone really, I guess): Have you ever quit a job without having another one lined up? I'm in a position where I'm so unhappy with my current school that I don't want to sign a contract for next year (love the students, but everything else is getting to me), but I feel I may have to by next week. I've applied like crazy to a bunch of districts around here (I'm certified and have two years experience so far even though I started applying back in early April). I feel I'm very qualified for the positions I've applied for, but I have had no luck whatsoever, even with job fairs. How does this typically work? Do you typically not get a job until mid-summer? I'm in Texas if that matters. I will be paid through the end of August, but if I don't have a job by then, I'm screwed. I'm single, so I don't have a spouse's income to fall back on.

Now for non-TL;DR questions:
3. Good idea or bad idea: going on a cruise alone? Is it even possible to do? Do you have to pay more?

4. If you're planning on seeing the next Harry Potter movie, are you nervous about how it's going to turn out? Do you think it will be good?

5. What is your favorite kind of apple? I love Golden Delicious and Fuji apples.

6. Do you have a cat? Care to post a picture?
Her name is Saphira (yes, after the dragon from Eragon).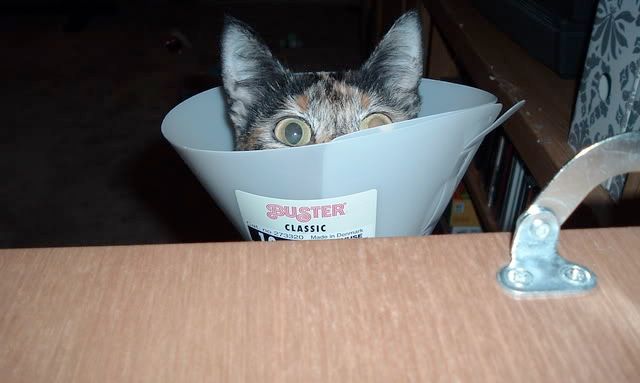 This is when I first got her last summer. They spayed her before I took her home, but she chewed on the stitches and acquired an infection, so she had to wear this for a while. She looks like a vampire here. Hehe.


This is her a couple months ago. She's starting to get tubby.