Can anyone here tell me exactly what this tattoo translates to? It is Chinese, duh lol.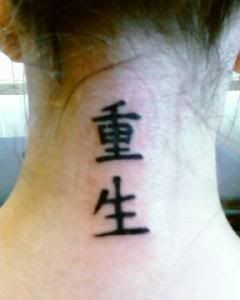 EDIT

Lol, jokes are shared, especially the potatoes shared one. But this is a girl at work, who thinks it means "beautiful" but it so does not, so I wana laugh, and tell her exactly what it means.

Keep the jokes, as it is making us laugh, but if anyone actually knows what it means, or better it means jack all, please do tell.

EDIT II

It means either Heavy Living, or Heavy Birth *sniggers* which is enough but if you must, carry on with the laughs.

Thanks to all that helped give the real meaning.

This person thought that it meant "beautiful" and now that is on her forever that it does NOT mean this. Oh dear....