My dept. at work just got our own 3d printer! For the rest of the week, we can print most anything (within reason) for free, including personal/non-work related items.

Here is a set of Pac-Man cookie cutters I got made today.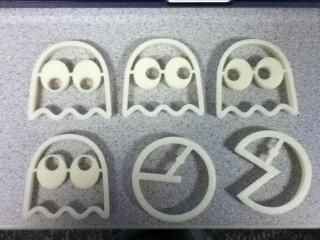 What other "fun" things should I get printed?

Have you ever had anything 3d printed before? What was it?

dk/dc: what is your favorite type of cookie? would it still taste as good if it were pac-man and/or ghost shaped?