TQC- my dog needs a wheelchair. :(
I was looking online and the cost for a dog his size is $300. Do you think my vet will be any less expensive? Have you had or know anyone who has been in the same position?

I really want to get one for him so he can run around and be back to his old self. Right now his back legs have nerve damage, so while it doesn't cause him pain they just don't function properly for him to move around very fast.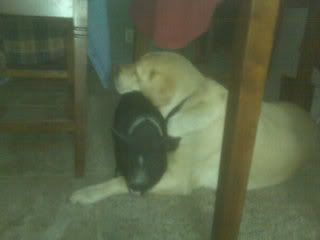 I decided to add a picture of him to show you all how sweet and loving of a dog he is. I had this pig for a while and she was attacked by dogs frequently and really mistreated by her previous owners. My dog was so gentle and tame with her that after a day or two, years of abuse went out of her mind and they were total bffs.