1. Okay, I know I just posted about all this crap like just two weeks ago but I'm FREAKING STRESSED.



I've gone wedding dress shopping a number of times now, total of like 20 shops, - thrift stores to consignment shops to department stores to bridal stores. There's nothing that I love and I think it's just because I'm SO HUNG UP on this one dress that I only have a picture of and no freaking information. No one at ANY of the stores has offered to show me anything even close to the "feeling" of this dress, nor had any information about the dress. Seriously how do lacy backless vintage dresses come close to this?

Can you help me track it down? I've been googling for so long, probably just past the 8 hour mark with no freaking success. And I'm sure once I post this I'll find it. :/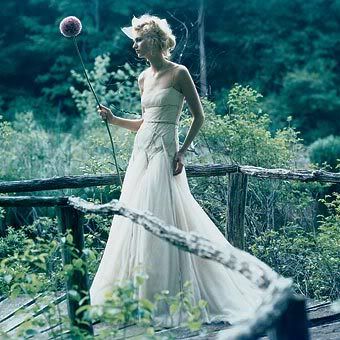 There was speculation that this was probably a Vera Wang, but I feel like I've browsed all the collections I could find (can't find anything about spring 2005? or some fall collections? I don't know - do designers take big seasonal breaks like that? I'm seriously not fashion-oriented). I've left comments on the two blogs that I found the actual picture on with no reply (commented over two weeks ago - both the blogs are written in really broken English, and don't have any sort of flow [they go from wedding gowns to mini skirts to skinny jeans to striped hose like it's just someone browsing a magazine and spilling their thoughts and googling images for examples] so I don't know what they're all about).


Do you know ANYTHING about this dress? Designer? Season? Style number? ;) ;) ;)


If I even get the information and it turns out to be a dress from like 6 years ago, is it still possible to find it? How does one go about that? I imagine if the number is tracked down I could potentially find the pattern for it??




2. Does anyone else get really annoyed that when you ask for help to find something the reply you get is, "Did you try to look online?"