1.

When was the last time you felt frustrated by something you initially thought would be easy to do?

2. What's your favorite finished webcomic? How about your favorite ongoing one?

3. What's your guilty pleasure?

4. If you play Fire Emblem 7

(Rekka no Ken/Blazing Sword)

, which pairing do you support?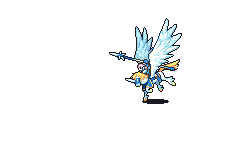 _____________
1. I tried making an
origami velociraptor
this morning and finished with a pile of crumpled paper. Made me feel like I suck at following directions.
2.
Ugly Hill
.
Nedroid
,
Perry Bible Fellowship
.
3. Buying notebooks, sketchpads and art materials.
4. Hector/Florina
♥